As someone who has been working in the tower safety industry for many years, I often forget how many people outside our industry are unaware of what tower safety is, what it entails, and how the skills associated with tower safety apply in so many different jobs, not to mention the job opportunities that open up by having such skills. This past week was a BUSY week as TelTech College partnered up with several industry professionals for training and job opportunities.
Scottsdale Fire Department training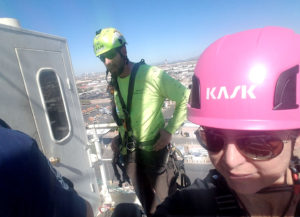 On Sunday, we were on site at the Scottsdale Fire Department to do tower safety to watch a the men and women train from tower cranes. Fire fighting in and of itself is an extremely hazardous occupation. Our training illustrated While we were there we brought up all the potential hazards of cell towers when not properly trained; the risk of falls and the rescue techniques required of a cell tower. They were a fantastic group and we look forward to doing additional training with other departments as opportunities arise.
Prison training and outreach
One outreach effort that we are particularly proud of is the work we do with prisons in Arizona. TelTech College works with the Department of Corrections and DES us to help inmates get into the wireless industry through our certificate programs. We've visited several prisons to speak with inmates about the opportunities in the wireless industry and how programs such as ours can train them for these jobs. We get letters from prisoners asking to get into the school; some are handwritten and some are emails. All talk about how our presentation inspired them to pursue an education to get trained for a job in the industry upon release. We believe in giving back to our community through education and compassion. Those letters truly inspire us!
Pair job seekers with employers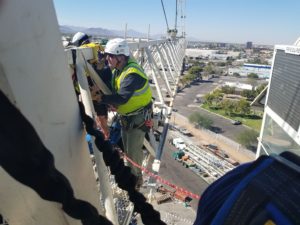 We're excited about our newest venture; pairing our students up with construction company owners who are looking for skilled workers trained in the areas needed to be safe and effective on the job. Graduates of our Telecommunications certificate program are trained in the recognition, avoidance, and prevention of safety and health hazards in their workplaces, CPR, and site hazard assessment; skills that are very valuable to potential employers in the construction industry. Our drone operator program provides training on the ability to perform safely, understand the basic requirements, personal protective equipment, and tasks needed for both manual climbing inspection tasks and SUAS / drone aerial inspection elements of cell tower inspection work. Once again, highly sought-after skills by many employers.
We've been busy, but we're thrilled to work with industry professionals for training and jobs, and will continue to commit our school's efforts to improving our community.