As interest in telecom training continues to grow, so does TelTech! We're excited to announce that we've expanded to a new location to accommodate our students.
So why the move?
TelTech College moved because we wanted the ability to provide a "playground" of tower equipment for all of our students to train, learn, and improve their skills. As they say, you learn by doing, and the tower safety industry is no exception! Creating a more comprehensive, hands-on learning environment with this location will allow us to better train our students, which in turn provides better employees for employers in the telecom industry.
What kind of enhancements are at the new location?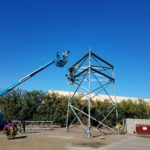 TeleTech College has installed a 60′ SST tower and in the next couple of weeks we'll be adding a 70′ monopole. Our new location is amazing, with over 3/4 of an acre and 3000 square foot building designed to accommodate rigging, climbing, and rescue instruction.
Come see our new location! We're located at:
3212 S. 36th Street Phoenix, AZ 85040
We're proud of our new offerings and are thrilled how it aligns with our mission of Honesty, Accountability and Integrity.