ANSI 10.48 Competent Rigger Course
The Competent Rigger course for Certification of Completion course is designed to include the OSHA requirements for safe construction rigging work practices. ANSI/TIA – 1019-A ,TIA 222, and TIA 322 Standards for Installation, Alteration and Maintenance of Antenna Supporting Structures and Antennas.  The new ANSI 10.48 Standards Criteria for Safety Practices with the Construction, Demolition, Modification and Maintenance of Communication Structures.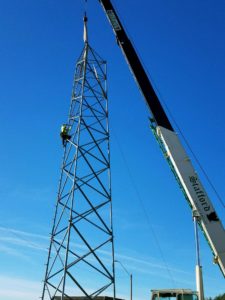 Tower Safety is a recognized training provider in the industry.
Rigging is one of the most important safety and risk exposure considerations on any construction project and Tower Safety & Instruction reflects that importance in our Competent Rigger Course.
Rigging Plans
Unforeseen Forces
PrePlanning of rigging operations
Periodic and frequent inspection of tools and equipment
Monitoring of rigging work operations
OSHA Rules and Regulations
Hand Signals – Download our free Crane Hand Signal chart http://towersafety.com/crane-signal-person/
Capstan Rigging
Students are  provided with a Riggers Handbook and a wallet Rigging Card to emphasize the importance of Tower Safety & Instruction training efforts. These handbooks and wallet cards are a quick reference for  basic safe rigging practices, sling tables, crane hand signals, and shackle charts.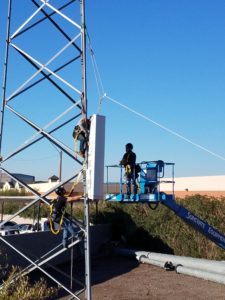 Tower Safety & Instruction is changing the "Safety behavior one student at a time!" go ahead do something impossible today, Get Tower Certified!
Call us , And Schedule YOUR Competent Rigger, Capstan Training and Hand Signal training, we will visit your location or we would love to  see you at one of our training locations.
We have 2 locations:
602-900-7668 or 480-313-0678
3212S. 36th street, Phoenix, AZ 85040
3525 Asheville Hwy Hendersonville, NC 28791