Competent Climber and Rescuer Certification
Honesty, Accountability, Integrity
The Competent Climber and Rescue course teaches the cell tower worker on various fall protection rescue equipment and how to properly set up tower rigging, cell tower victim rescue, mechanical advantages, and self rescue, along with proper emergency care and risks.
Contact us @ 480-313-0678/info@towersafety.com
Competent Climber and Rescue Training:
Competent Climber – Rope Education
Ropes: types, strength ratings, inspections and documentation
Knots & Hitches: Bowline, Clove, Prusik, Family of "8's", Munter Hitch, Clove Hitch
 Advanced Rescue Systems for Competent Climber and Rescuer Cell Tower Workers:
Industrial descent devices – use, standards and regulations, inspections, ratings
Pulleys: types, applications, use
Raising and Hauling Systems for Rescue & Rigging Angles
Mechanical advantage – explanation, application, formulas, and simple vs. compound systems
Anchors: ratings, requirements, use, load sharing, and vector forces
Cross hauls and lowering systems
Load equalization
Rescue Scenarios on various cell towers, monopole, self-supporting, rope rescue
Competent Climber Field Training and Rescue Techniques
A Competent Climber will be trained in fall protection and cell tower rescue practices.  Students will know how to perform tower-based rescues and rescue training as they apply to the daily JSA's or Tailgate meetings and fall protection according to OSHA, TIA and ANSI guidelines.
Enroll Today! Start Your Future Tomorrow!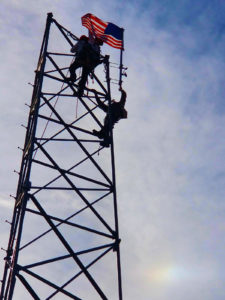 2) American Red Cross First Aid/CPR- Telecommunication Tower Technician:
First Aid/CPR is a standard requirement for a Wireless Tower Construction worker, no prior job, skills, or educational experience necessary to apply for the First Aid/CPR course. The Completion of Certification in First Aid/CPR is good for 2 years after issue date.
3) RF (Radio Frequency) Safety Awareness – Telecommunications Tower Technician:
The RF Awareness Course is intended for wireless communications workers that work with within Radio Frequency transmitting antennas. The purpose of this training is to educate workers so they can control their exposure to Radio Frequency Radiation (RFR). This course also contains an additional module that contains information targeted for wireless industry professionals responsible for maintaining an FCC (Federal Communications Commission licensed site(s) with regards to compliance with FCC regulations concerning human exposure to RFR.
4) Authorized Climber- Telecommunications Tower Technician:
The Authorized Climber course is designed to include the OSHA required training listed on the Code of Federal Regulations (CFR's 1910 and 1926) related to work at a wireless communication site. Specific areas addressed include site hazard assessment, mandated safety meetings, American National Standards Institute (ANSI Z359), Personal Fall Arrest System (PFAS), and fall restraint techniques, fixed ladder usage, Personal Protective Equipment (PPE) and emergency contingency planning (including rescue techniques). The Authorized Climber Certification of Completion is a standard requirement for a wireless cell tower construction worker.
5) Competent Rigger – Telecommunications Tower Technician:
Competent Rigger Level 1 training provides the necessary qualification requirements towards the wireless cell tower construction industry, OSHA §1926 Subpart CC, General Industry OSHA §1910, ANSI, and TIA 1019A standards. Students attending this course will learn pre-use inspection, proper use and application of rigging gear. The course includes making sure all participants fully understand sling hitches, proper rigging gear assemblies, sling protection, and work site safety.
 Download our free crane signal chart : Telecom Crane Signal Chart