Tower Safety & Instruction
Tower Safety and Rescue Courses are committed to providing a safe and healthy learning environment for the protection of our most vital resource – our students. Tower Safety & Instruction's bottom is – "No training assignment will be performed in an unsafe manner". Tower Safety will ensure that you have the safety training  necessary to complete your educational requirements and enter into the wireless industry with an understanding of telecommunications with the skills of Authorized Climber,Competent Climber, RF Safety Awareness, OSHA 10, ANSI 10.48 Competent Rigger, SPRAT and First AID/CPR. Tower Safety's dedicated instructor's devote their complete attention to your success and safety in both hands on and classroom environments. Tower Safety's wireless climber curriculum has been prepared to assist the construction owner.
Tower Safety stands for workplace training by providing education that empowers individuals. This enables our students to do whatever it takes to Think About, Act On, and Value Education in ways that impact their lives. We focus on 3 crucial safety behaviors:
Honesty, Accountability, and Integrity.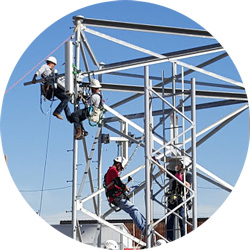 Tower Safety online training program assists the employer in certifications for RF Awareness, GHS, Heat Stress, Lock Out…

Tower Safety provides exceptional training in telecommunications safety, while instilling an obsession for personal accountability, integrity, and honesty with our business partners.
Why Tower Safety and Rescue Training?
Owner and School Director: Kathy Gill
25+ years of Central Office Telephone Installation with AT&T, outside plant installer with Lucent Technologies, AT&T 5ESS OSPS Switch Engineer and Wireless Safety Director.
100% woman owned

WBENC Certified

WOSB Certified

Official American Red Cross Training Center

TIRAP approved (Telecommunications Industry Registered Apprentice)

Licensed Contractor in the state of AZ

Created the first Wireless Cell Tower Safety School in the Desert Southwest

Wrote and copyrighted all curriculum required school books for Authorized Climber, Competent Climber, Authorized Rescuer, and Radio Frequency Awareness.

OSHA 500 Instructor

UCSD Fall Protection Trainer
SPRAT Training
SPRAT Tower Safety is proud to offer a SPRAT certification level 1 courses. SPRAT is a necessary tool for workers at height, it gives instant recognition and credibility for the Technicians who carry it, and the companies who invest in it. In turn, companies that hire rope access services will look for the SPRAT certification, and will know you offer the industry's best in technical achievement.
Training Director Clark Dunn
Recognized safety professional with 20 years + experience in Safety, Quality, and Telecom Construction
First AID/CPR/Blood Borne Pathogens Instructor

OSHA 510

OSHA 511

OSHA 500
Program aims to help give Arizona's inmates a second chance, outside of prison
Gov. Doug Ducey praises jobs program during prison visit
New Sunrise Employment Center gives prison inmates hope for the future
Tower Safety Services
Our Authorized Climber, Competent Climber, ANSI 10.48 Competent Rigger SPRAT and Competent Drone Pilot Cell Tower Operator  has been prepared to assist YOU, the worker, to a safe and healthy career. Safe work performance and  training must be the most important aspect of a cell tower worker's daily routine.
Free Safety Solutions
Tips from Tower Safety are a good starting point for safety committee talks or "safety moments."
Cell Tower Training starts with learning basics of ropes, knots, anchorages..
Tower Safety Live Broadcast
Tower Safety live with special guests  …
Tower Safety offers the Competent Climber, Authorized Climber, ANSI 10.48 Competent Rigger course weekly.
Tower Safety is about people, their unlimited possibility for good; and the right to a good life regardless of his/her color, creed, family background or any circumstance or misfortune of life  …
Licensure and Affiliations
Tower Safety  is also affiliated with the following:
American Red Cross official training center for First AID/CPR, and Blood borne Pathogens
American Safety & Health Institute
AZ Licensed Contractor
SPRAT (Society of Professional Rope Access Technicians)
Department of Labor TIRAP (Telecommunications Industry Registered Apprentice Program)
WBENC (Women Business Entrepreneur National Certification) certified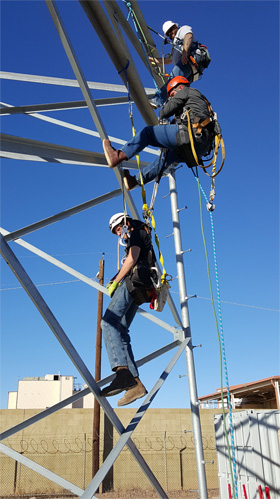 Contact Tower Safety
3212 S. 36th Street
Phoenix, AZ 85040
Phone: (480)-313-0678
Email: info@towersafety.com